Genius Specialty Retractable Screens for medium to large openings are designed for maximum flexibility to fit virtually any medium to large openings. These specialty retractable screens are customizable and can fit garage doors, porches, patio enclosures, verandas, lanais, ramadas, pergolas, gazebos, picture windows, roman archways and curtain walls. Commercial applications include restaurants, bars and loading docks. Designed to prevent insects from entering your indoor and outdoor living spaces, Genius specialty retractable screens also provide shade from the direct glare of sunlight, and enhance your privacy. Specialty retractable screens are operated with either convenient pull chains or an easy-to-use motorized version and a hand-held remote control.
Olympic Retractable Screens For Medium To Large Openings
Olympic Retractable Screens for medium to large size openings allow for natural ventilation while keeping pesky insects out. It's the perfect choice for larger enclosures such as patios, gazebos, covered porches and lanais, elevated decks, garage doors and commercial openings that are up to 10 feet tall and 16.5 feet wide! The Olympic Retractable Screen is an affordable screen solution that is within the budgetary means of any homeowner. Available in a variety of frame colors and are easily operated either manually (easy-to-use pull cord included) or motorized with hand-held remote. Each screen is made to order and since there is no cutting or assembly required, this screen is fast and easy to install.
The motorized version comes with an easy-to-use, hand-held remote control. Open or close the screen with the touch of a button — a wonderfully convenient feature. Olympic Motorized Multi-Screen applications are synchronously operated with a single multi-channel remote control and requires a 120 volt connection. Also available is the manual version, operated using a convenient pull chain.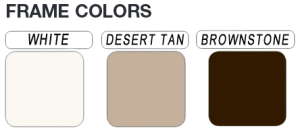 ZigZag Retractable Screen Doors
The Genius ZigZag retractable screen door system is the ideal large door opening screening solution for today's ever popular bi-fold, tri-fold, lift-n-slide and other large opening panel type doors. Featuring one large viewing panel, the ZigZag is available in sizes up to 16.5′ Wide X 8.5′ High (and even larger in some cases). The ZigZag screen features one large viewing panel providing an uninterrupted view outside. This awesome look is fantastic on French doors. With simple "touch of a finger" operation, this screen can open from either side.
ZigZag Screen Features
Made using elegant and stylish pleated screen fabric
Features one large screen panel
Screen opens at either end
Custom made to match your opening dimensions
Easy, touch of a finger operation
Available in five (5) frame colors
Openings up to 196.85" (5.0m) wide x 102.36" (2.6m) tall